One of the smallest dual-core CoM in the world, the Ka-Ro TX6 is based on NXP's i.MX6 processor. Mounted on the base board, the module only takes up just under 26 cm² (36 mm x 71 mm including the socket) and facilitates a maximum construction height of just 4.5 mm. As the latest member of the Ka-Ro CoM family, the TX6DL boasts powerful dual-core CPU performance for challenging graphical and multimedia applications.
Also available as 1GHz Quad-Core TX6Q, 800MHz industrial Quad-Core TX6QP and Single-Core TX6S
Embedded computing power is very much in demand in a growing number of multimedia-centric devices. The Ka-Ro TX6 is ideally suited for target markets requiring high-end devices for powerful images and impressive video streaming creating connected devices in the following vertical markets.
Automation
Medical technology
Industrial control
Digital signage
Transportation
By combining the power-efficient processing capabilities of the ARM Cortex-A9 architecture with bleedingedge 3D and 2D graphics, as well as high-definition video, the i.MX 6 provides a new level of multimedia performance to enable an unbounded next-generation user experience.
For more information regarding i.MX 6DualLite processors, see the NXP product page:
10/100Mbps Ethernet
USB 2.0 ports x2
LCD 24 bit TTL
Parallel CMOS Sensor x2
UART x3
I2S serial audio x2
External Memory Interface

SDIO x2
I2C
SPI
PWM
Keypad
CAN x2
PCIe
3.3V I/O
P/N:
TX6U-8030
TX6U-8130
TX6U-8033
TX6U-8133
Processor
i.MX6U7
Max. Clock
800 MHz
SDRAM
1 GiB
Flash

128MiB SLC NAND

4GiB eMMC
Display-IF
24-bit TTL
Dual LVDS
24-bit TTL
Dual LVDS
RTC
DS1339
i.MX6
Size
31 mm
Grade
Industrial
Temp.:
-40 °C to 85 °C
-25 °C to 85 °C
| Part number | Part name |
| --- | --- |
| TX6U-8030 | TX6DL/800/1024S/128F/I |
| TX6U-8130 | TX6DL/800/1024S/128F/I/LVDS |
| TX6U-8033 | TX6DL/800/1024S/4GF/E85 |
| TX6U-8133 | TX6DL/800/1024S/4GF/LVDS/E85 |
Often, devices are required in different performance and price classes. This is where Ka-Ro's TX standard comes into its own. With one single hardware design embedded engineers can produce a range of pin- and software-compatible products. Ka-Ro introduced the TX CoM standard over six years ago. Until today, the Ka-Ro Starter Kit V has served as the unchanged development environment for all Ka-Ro TX modules underlining Ka-Ro's long-term product and family strategy. All the TX modules can be used on the Starter Kit V which enables great scalability and flexibility.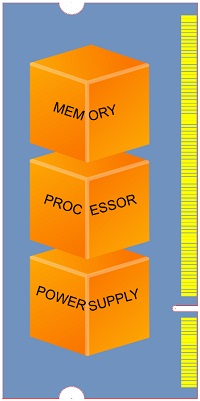 The philosophy behind Ka-Ro's TX CoM family is to reduce a CoM down to the absolute minimum of components. In doing so, application designers and engineers using Ka-Ro CoMs can achieve maximum flexibility. Ka-Ro TX CoM modules solely feature the processor plus memory and the power supply. Any additional functions can be added to the base board.
Longevity
This focus on CoMs with a minimum number of components is on the one hand the key to very competitive pricing, on the other hand it enables Ka-Ro to ensure long-term availability. While processor manufacturers like NXP offer a long-term availability of 10 to 15 years, this must also apply to any further components integrated onto a module or these must be available via second sourcing and without any necessary software alterations. If these components are integrated on a module, as is the case with many other manufacturers, this long-term availability is endangered, or – from right from the start – not possible to guarantee.
Orange indicates change from column to the left
TX6S

TX6DL

TX6Q

Single ARM Cortex-A9
@ 800 MHz
512 KiB L2 cache
Neon
VFPvd16
Trustzone
3D graphics with one (1x) shader
One (1x) 2D graphics engine
16/32-bit DDR3

Dual

ARM Cortex-A9
@ 800 MHz
512 KiB L2 cache
Neon
VFPvd16
Trustzone
3D graphics with one (1x) shader
One (1x) 2D graphics engine

64-bit

DDR3

Quad

ARM Cortex-A9
@

1 GHz

1 MiB

L2 cache
Neon
VFPvd16
Trustzone
3D graphics with

four (4x) shaders

Two (2x)

2D graphics engines
64-bit DDR3
Integrated SATA-II