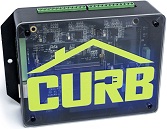 CURB Energy, an energy startup based in Austin Texas, designed their new Energy Intelligence System using a Ka-Ro Electronics Computer-on-Module based on the Freescale i.MX28 processor. Their system helps homeowners take control of their home by providing real-time insights into their energy consumption and alerting them when there are opportunities for energy saving as well as potentially unsafe situations. The hardware is installed directly onto the home's circuit box, the central hub that routes electricity directly into the home's devices and appliances. Current sensors recognize and monitor energy usage, which are viewable via the CURB mobile app and web dashboard, enabling the home or business owner to make decisions to immediately reduce their power usage and save money.

As CURB Energy says in their blog: "We learned a lot over the past couple of years about what we need from our devices and we are taking huge strides in creating exactly that." Starting with a TX28 Ka-Ro development kit and Linux BSP in October 2014, CURB developed their sensor box and installed the first prototypes just six months later.

"Integrating the Ka-Ro module in the CURB system really helped us accelerate our speed to market without having to make any sacrifices in performance. It allowed our team to stay focused on our core competencies and differentiators while leveraging a trusted platform." said Erik Norwood, CEO and Founder of Curb.

Following the successful test of early units, the finished product will ship in September 2015– less than a year after starting development with the TX28.

CURB launched in June on Indiegogo and reached their goal in under 48 hours. As a result of the incredible support as well as their announcement this July that they were certified as a SmartThings partner, they extended their campaign through August 20, 2015 offering a variety of pre-release discounts to early purchasers. They will start shipping this September.
www.indiegogo.com/projects/curb-power-your-life-smarter

The innovative new CURB system has won many awards, including the National Hardware Cup which came with a $50,000 grand prize. The CURB system is also featured in Freescale's Internet of Tomorrow tour.
More information about Curb can be found on their website: www.energycurb.com


The TX28 is a member of Ka-Ro's pin-compatible family of embedded modules. Based on ARM® cores, TX modules are ideally suited for new product development. They provide high quality, long-term availability, and a single source for software BSPs to ensure development success.