The TXSD features the powerful Qualcomm® Snapdragon™ 410E quad-core processor for demanding embedded applications. The module features integrated Wi-Fi and Bluetooth connectivity, advanced graphics and multimedia support, and an energy efficient design. With Ka-Ro TX family compatibility and guaranteed long-term availability, the TXSD is an ideal solution for demanding industrial applications and Internet of Things solutions.
The TXSD is pin-compatible with other TX modules, providing a high-end solution for upgrades. With the Snapdragon 410E platform with integrated wireless and Bluetooth, developers can leverage consumer chipset capabilities for embedded applications which require long-term availability.
Complex applications are driving the need for increased computing power and connectivity in new products. The Ka-Ro TXSD is ideally suited to applications which require local processing, rapid image processing, video streaming and integrated connectivity.
Applications and vertical markets for the TXSD include:
The Snapdragon 410E processor is a quad core processor with 4 ARM Cortex A53 cores operating at 1.2GHz. The extremely efficient design reduces the need for cooling, and the high integration of the Snapdragon provides a low component count on the module that minimizes design changes.
(E)mbedded and (E)xtended availability
The Snapdragon 410E for embedded computing is designed for longevity with extended availability and support for a minimum of ten years from the initial commercial release (to 2025).
For more information regarding the Snapdragon 410E processor, see the Qualcomm product page:
HD (1280 x 720) LCD controller
LVDS display interface
Qualcomm® Adreno™ 306 GPU up to 400 MHz 3D graphics accelerator
1080p30 video decoder / 720p30 video encoder
Two MIPI Camera Interfaces

SD-card interface
High Speed USB 2.0
Six configurable UART/SPI/I2C interfaces
Configurable GPIOs
1.8V IO
Wireless option:
802.11b/g/n 2.4GHz WLAN / BT 4.0
Qualcomm Snapdragon and Qualcomm Adreno are products of Qualcomm Technologies, Inc.
| Part number | Part name |
| --- | --- |
| TXSD-410E | TXSD-410E/1200/1GS/4GF/LVDS |
| TXSD-410E/WLAN1) | TXSD-410E/1200/1GS/4GF/LVDS/WLAN |
1) Non-standard version. For additional information, contact your local sales office
Often, devices are required in different performance and price classes. This is where Ka-Ro's TX standard comes into its own. With one single hardware design embedded engineers can produce a range of pin- and software-compatible products. Ka-Ro introduced the TX CoM standard over six years ago. Until today, the Ka-Ro Starter Kit V has served as the unchanged development environment for all Ka-Ro TX modules underlining Ka-Ro's long-term product and family strategy. All the TX modules can be used on the Starter Kit V which enables great scalability and flexibility.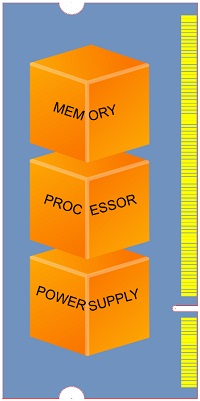 The philosophy behind Ka-Ro's TX CoM family is to reduce a CoM down to the absolute minimum of components. In doing so, application designers and engineers using Ka-Ro CoMs can achieve maximum flexibility. Ka-Ro TX CoM modules solely feature the processor plus memory and the power supply. Any additional functions can be added to the base board.
Longevity
This focus on CoMs with a minimum number of components is on the one hand the key to very competitive pricing, on the other hand it enables Ka-Ro to ensure long-term availability. While processor manufacturers like NXP offer a long-term availability of 10 to 15 years, this must also apply to any further components integrated onto a module or these must be available via second sourcing and without any necessary software alterations. If these components are integrated on a module, as is the case with many other manufacturers, this long-term availability is endangered, or – from right from the start – not possible to guarantee.
Qualcomm, Snapdragon and Adreno are trademarks of Qualcomm Incorporated, registered in the United States and other countries. Used with permission.